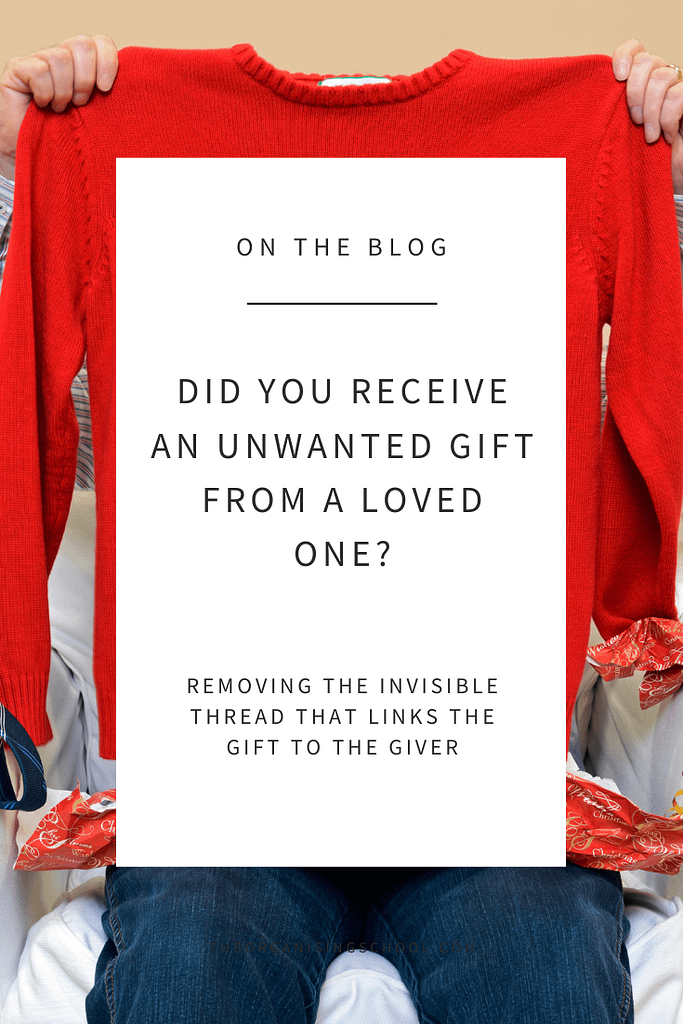 Christmas can be a lovely time but it can also be a time of angst especially for those who already feel cluttered! Did you receive an unwanted gift from a loved one?
Do you feel the need to keep an unwanted gift because of the person who gave it to you…
Let me share a story that shows why this shouldn't be part of your decision making.
Could this happen to you?
A few years ago, I was working with a client who kept an unwanted gift because it was given to her by her sister.
Not really liking the gift, she put it away. With it other items accumulated until finally she had had enough and hired me to come declutter and organise.
So there we were, half way through the session and the unwanted gift had carefully been placed with others in an 'undecided' pile.
Having just told me the story that she was torn between wanting to get rid of the unwanted gift but feeling bad because it had been lovingly given to her, who should walk in but her sister.
Grabbing the item, she turned to her sister and said 'look I still have this…'
Her sister looked baffled 'I gave you that?!', she had no recollection of the item and suggested her sister donate it!
All of a sudden the item had no value to our client and with visible relief it was added to the donate pile.
I think most of us have at one point or other kept a gift not for the value, usefulness or pleasure it gives us but because of our attachment to the person who gave it to us.
What to do instead
How would it change your decision making with your unwanted gifts if you were to remove the invisible thread that links the gift to the giver?
Personally I hate the thought of my family or friends keeping one of my gifts because they either don't want to offend me or would feel guilty getting rid of it.
The reality is, like the client's sister I would be more than happy if the item was sold or donated to someone who would use it.
So in the spirit of giving, why don't you review this year's gifts, have a look at the back of your cupboards and search out those unwanted gifts. Remove the invisible thread and re-evaluate why you are cluttering up your home and life with these items.
If you still need convincing, read the regift process to make sure you don't accidentally give the gift back to the original gift giver.
Don't delay, start today
Sara