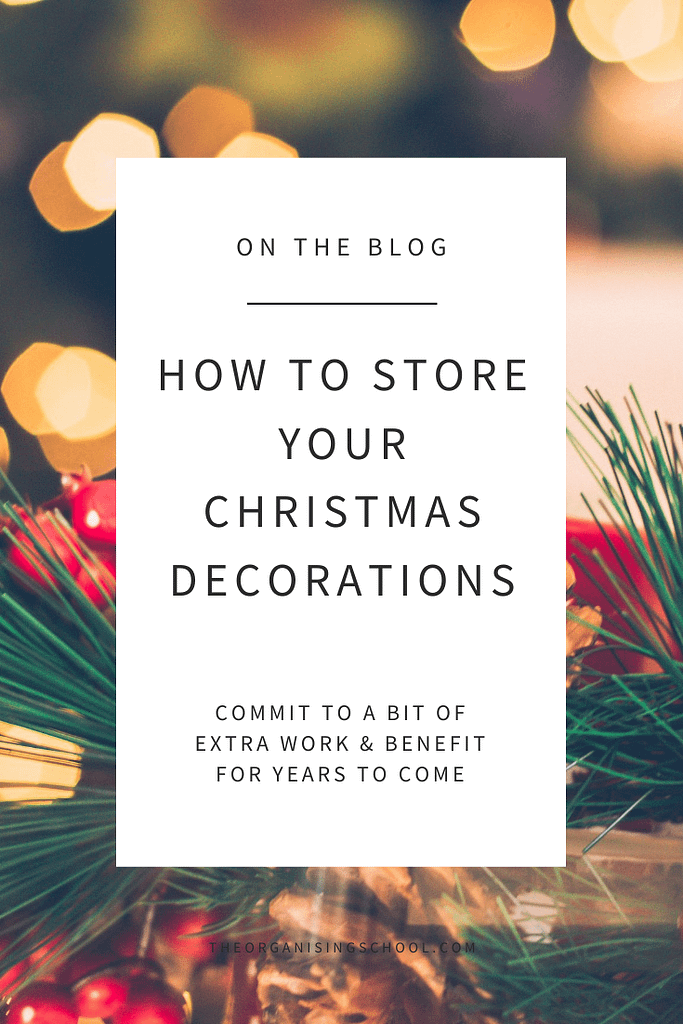 So it's November and I'm writing a post on how to store your Christmas decorations, you may think I've lost the plot but stick with me there is good reason!
If you have a lovely image in your head of sipping eggnog as you cheerfully flitter about magically transforming your home into a Christmas wonderland but the reality is you lose chunks of hair and burst blood vessels as you try and untangle last year's mess, this is the blog for you.
Commit to a bit of extra work now and you will benefit in January and the years' to come; packing away will be easier, you won't need to allocate as much space in your home and there will be less stress next year.
As you go through your decorations selecting what you want to put out, have a look at what you are not displaying and declutter.
3 quick questions to help you declutter your Christmas decorations:
Is it broken? are you really going to fix it? …how long has it been like this… be realistic!
Is it faded or discoloured? If it isn't displayed, think hard about why you are keeping it especially if your decoration boxes are busting at the seams.
Do you have an abundance of the same type of decorations? Will you put that many out…ever? There are only so many decorations that will fit on the tree or on surfaces.
Maybe some decorations tug at your heart strings, reminds you of a special time or you just love it – be clear on why you are happy for each decoration to take up space in your home especially if it only gets a yearly passing glance.
If you are heading to the shops to buy more decorations, make sure you declutter first so you know exactly what you need.
How to Store your Christmas decorations
Looking at the storage solutions you currently have for your decorations, are they working for or against you?
How about those pesky lights?
There are many products available that are designed for all the weird and wonderful shapes that make up Christmas decorations.
Decoration boxes with dividers, reels to help keep the lights untangled. All sorts of cost effective storage solutions! But remember it's only cost effective if you need and use it. Unused storage solutions often become clutter themselves, so make a list of what you need.
To give you an idea of what is available, below are snapshots of products from Bunnings and Kmart. Be warned, they sell out fast and stock changes yearly!
Store all your Christmas related items together in one spot. Not only will this help you remember everything you have, setting up and putting away will be easier too.
If this is the year you wanted to get organised and you feel like the year is slipping away too quickly, it's not not too late!
Along with organising your Christmas decorations, I have 7 simple organising and declutter tips that will help you start a more organised 2018.
Organise in 7 days: FREE course
Don't delay, Start today
Sara