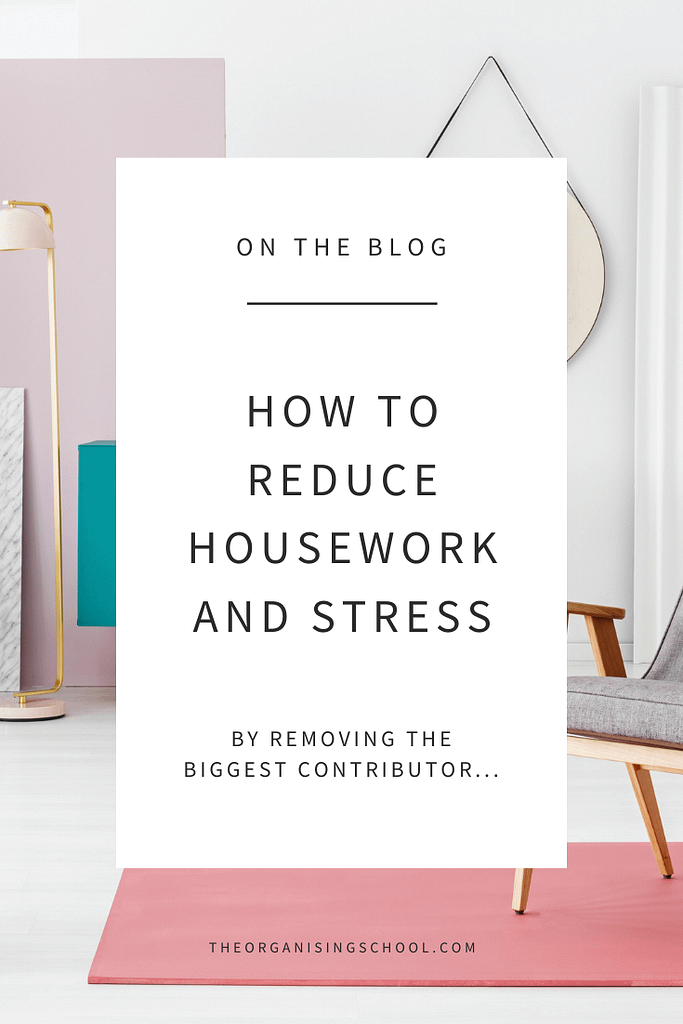 Do you feel overwhelmed and stressed over the amount of housework there is to do?
Family, pets, weather, stuff- all contribute to making our homes dirty. Cleaning is a thankless task, no sooner is it finished than it needs to be done again.
Our pint sized and four legged members of the family may be big contributors to making housework challenging, but there is usually a bigger demon.
The biggest contributor to housework..
Think about how much harder it is to clean and complete chores when you are constantly shuffling your belongings around. Even if you don't do it yourself, either the cleaner will take longer making it more expensive or there will be areas missed.
Maybe you find yourself shoving things away only to spend hours trying to find items afterwards 'now where did I put that…'
'Stuff' has an impact on every part of our lives. I know I'm not sharing any mind blowing facts here, but when it comes to the housework none of us like doing, it's like a big red flashing reminder of the situation.
I get it if you are busy trying to keep on top of it all then it's hard to wrap your head around finding the time to make changes. Especially if you are feeling stressed and overwhelmed.
But here's the thing, precious time is already being spent on this stuff – whether it's trying to find what you need or tidying it up. And it's very likely contributing to the stress.
It's time to stop and regroup.
What is more important to you? Material items, relationships, health…
I was talking to a friend the other day; she has four young children and is on the journey of minimalising her life.
She had the ah ha moment when she realised how much time, overwhelm and stress revolved around managing her family's belongings.
Housework can be drastically reduced by simply having less stuff. Getting rid of clutter will reduce housework by 40% in the average home.
There is also evidence to show that children learn to be more creative when they have fewer toys.
When belongings are reduced it becomes much easier to organise and maintain your home, giving you back much needed time and a sense of peace.
I've worked with countless families where household storage is used to keep items that are not really needed. With often used items stored out in the open.
If you want to reduce your housework:
Picture the benefits an organised home will give you and keep that feeling strong
Pick one problem area at a time
Gradually go through each surface and storage area and declutter
Decluttering for 10 minutes a day will make a difference
Remember the stuff wasn't accumulated overnight so it is unrealistic that it will be solved overnight
Use easy to access storage for your often used items
Store like with like and label
Put things away straight after they have been used
Be mindful of what new items you allow into your home (try the one in one out strategy)
As a messy organised person who hates cleaning, I can tell you it is possible and worth it!
If you need guidance through the decluttering process, check out our declutter your life course
Don't delay, start today
Sara