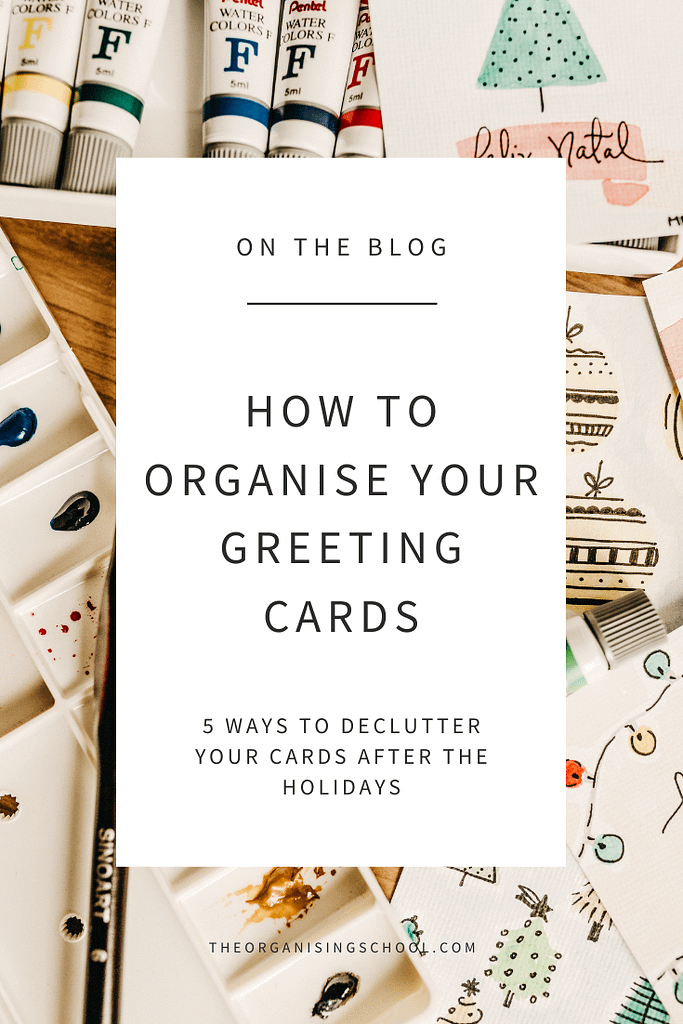 It's lovely to receive greeting cards from friends and loved ones, and there is usually an influx over festive holidays.
But what happens when it is time to take them down, do you keep every single one?
Over the years, I've visited countless homes where piles and piles of cards are stashed in different locations. An assortment of birthday, celebration and condolence cards.   As we've decluttered together and gradually gathered the cards into one location, I've seen the look of astonishment clients have from seeing all the cards together. The moment of realisation, of how many cards were kept.
If you resonate this this scenario, let's take this opportunity to tackle this source of clutter!
Declutter & Organise Your Greeting Cards
After you've finished displaying your greeting cards consider:
Is there a nice personal message in the card or is it a generic message with a signature?  We can appreciate the lovely gesture without needing to keep the card. I suggest only keeping cards you will enjoy reminiscing about it in the future.
Are you keeping the card because you like the design of the card? Think about why you are keeping the card and what will you use it for?  If you are creative and like to reuse them to make gift tags, tear off the image and store with your wrapping paper. If it's for a crafting project, keep it with your crafting stuff.
Have you kept cards from previous years? How often do you look at them and how many do you have?  It is great to look back and remember good times but sometimes we feel the need to keep hold of too much and  are less likely to enjoy them because of the amount we have.  Keeping a select few with special meaning is more likely to bring joy.
Is this your list for next year? With Christmas greeting cards, some people keep cards as a way of remembering who to send to next year. If this system works for you, great! Just remember to rotate the pile, throwing out the year before.
For the ones you want to keep, there are different ways you can organise the cards – you could scrap book them, keep them in a memorabilia box or scan them to keep a digital record and throw the physical card out.
It is much easier and quicker to go through this process as you take cards down. I would suggest working through any backlog gradually making sure you tackle the new cards immediately to stop the cycle of clutter.
Don't delay, start today
Sara