Nearly every room that contains drawers has one drawer filled with fiddly little bits that are hard to keep tidy and organised – stationery in the office, underwear in the bedroom, the junk drawer.
Unless of course you have found the right solution!
There are a lot of different options available to you and I thought I would share some of my favourites and how to make sure you get the right storage for you.
Many people go out and buy organising solutions first without really knowing what they are buying for. If this is what you normally do…STOP! You are giving yourself more work. It's unlikely that you will get the right solution and unused storage becomes clutter too.
First we need to know what is in the drawer. Do a quick declutter and then sort like with like. Look at what is most important that you want to be able to put your hand on quickly.
Measure the drawer including the depth and get a clear idea of the size of the items being organised. Now it's time to look for a solution.
Here are some of my favourites: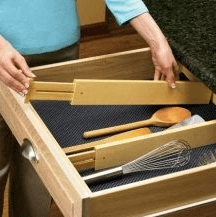 These drawer dividers work well in the bedroom to organise smaller items, in the kitchen to corral plastic lids or large utensils if they are stored in a drawer.
Non-slip backing stops items like drinking glasses and utensils from sliding around the drawers.
You can also use a mix of containers and non-slip backing.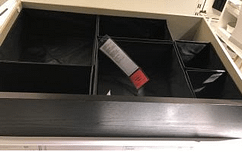 Kmart and IKEA have a great selection of cost effective solutions like the ones shown above.
The solution doesn't need to fit exactly; gaps can be used to store longer items like rulers.
Dividers don't need to be used for what they are designed for. For example, a utensil tray can be used in the office, if the compartments are more suited.
Sturdy boxes from purchases like mobile phones can also work by using the lid and base side-by-side as containers. But be mindful of how many you keep, as this can amount to clutter.
Don't delay, start today
Sara