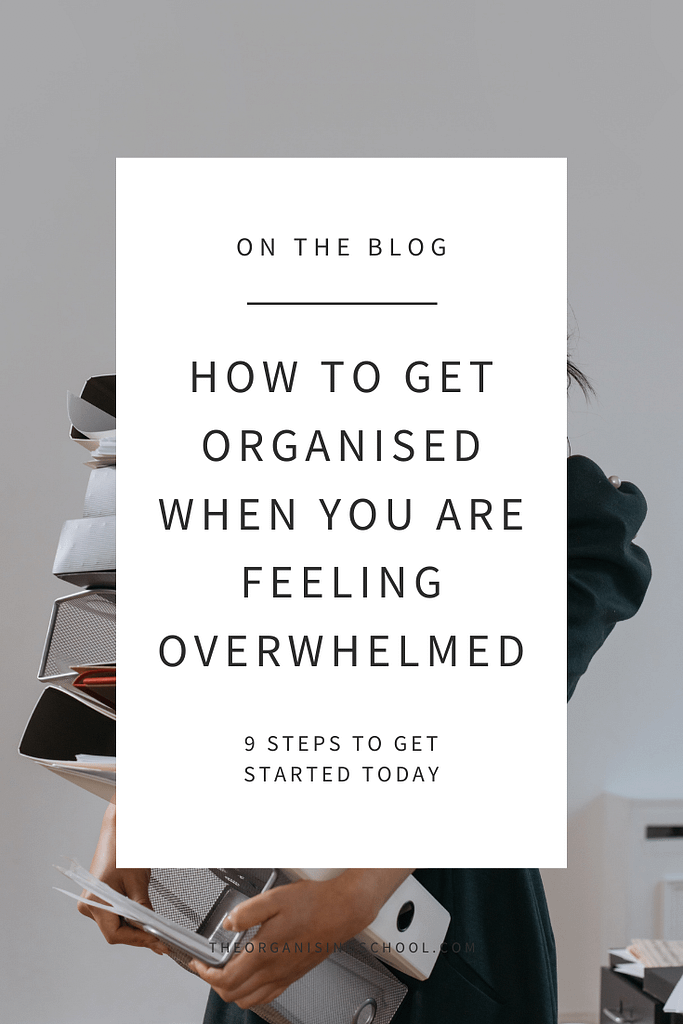 We've all seen the myriad of books, TV shows, and posts of well organised homes. Heard the benefits of what less clutter and chaos will do for us. But if you are feeling overwhelmed it can all seem too hard and out of reach.
I get it, it can be frustrating, life-stopping. Time doesn't have a pause button to let us catch our breath and regroup. Mind and physical 'stuff' keeps appearing needing to be dealt with; and then there's the overwhelm stopping us from functioning properly.
I am not a naturally organised person, but many years ago I taught myself, creating permanent and positive life changing habits. I truly believe anyone can do this if they are in the right headspace. It is worth it!
Have you pinpointed what is causing your overwhelm?
We can be overwhelmed by an emotion that stops us thinking clearly. Or we can be overwhelmed by something that is too difficult or too much to deal with. And let's not forget expectation on a particular outcome, placing unnecessary pressure on ourselves for it to be perfect. Overwhelm is unfortunately becoming more common, life is fast-paced, there is a high demand for our attention and we can feel like we are on-call 24/7.
How to get organised when you are feeling overwhelmed
Start small and stop trying to fix everything at once.
Most things take patience and time, take the pressure off yourself. Take a deep breath and start small. You are more likely to see lasting effects if you create new habits gradually. For instance if you are following my free course, just concentrate on following the first video.
Focus on one area at a time.
If your whole home is in chaos, which area when organised will have the biggest positive impact on your daily life? Perhaps it's the entrance to your home, the dining room table, or kitchen counter. Look at where the piles are being created and by what. Come up with simple organising solutions – they do not need to be perfect. If you can't think of what organising solutions to use, well I can help you with that! Pop onto our Facebook page and post your question, this will be helping others (and there are many in the same situation as you!) experiencing the same issue too.
Book 10-20 minutes with yourself daily.
And when I say book, I mean physically add it to your diary or calendar. It might mean setting your alarm 30 minutes earlier – find a time that works for you and your household and book yourself in.
Declutter the area first
If it's your space that is causing the overwhelm, often it is the volume of stuff that causes the chaos and overwhelmed feeling. Be truthful with yourself on what needs to be kept. Think about how excess makes you feel, how much harder it is to organise and get rid of the items that have no meaning or use.
Organise the area in a way that will work for you
It doesn't have to be perfect, it just needs to function. If a big container by the front door works for the kids to put their shoes in, go with it!
Look at what you are bringing into your home
Be mindful of what you are letting enter your home. No matter how much you get rid of, if the volume entering your home stays the same, you will not see a difference. Create habits to quickly review and decide on items, for example if you are at an event that is giving away goody bags; go through it outside of the event or by your council bins and throw away anything that has no use. Become your own gatekeeper stopping unwanted and unneeded items from entering your home. This coupled with decluttering will have the biggest positive effect on your home and mind.
Put things away
Take a few minutes after you are finished with something to put it away. I know that if the area is messy it can be easy to throw something down instead of putting it away. But it will only take a few minutes to put away and it will become easier and easier as the spaces are decluttered and tidied.
Be gentle with yourself
If the allotted time presents itself and you are feeling particularly overwhelmed. Try to select an easier task to do that will still have you moving forward. Perhaps you are working on the entrance of your home but today you declutter your handbag. Pick something small that won't stop the momentum and will help you stay on track. But if you really can't, accept it, don't beat yourself up or give up.
Ask for help
Whether that's arranging a playdate for your child, asking a friend or coach to act as an accountability buddy, purchasing an organising course or getting assistance from a professional organiser. Look at who can help you achieve your goal. Many people feel too ashamed or embarrassed to ask for help. Please believe me when I say there are others who feel the same as you and you are not alone. When Professional Organisers look at chaos, they are looking for solutions not judging how it happened.
There is no better time than today to start.
Don't delay, start today
Sara