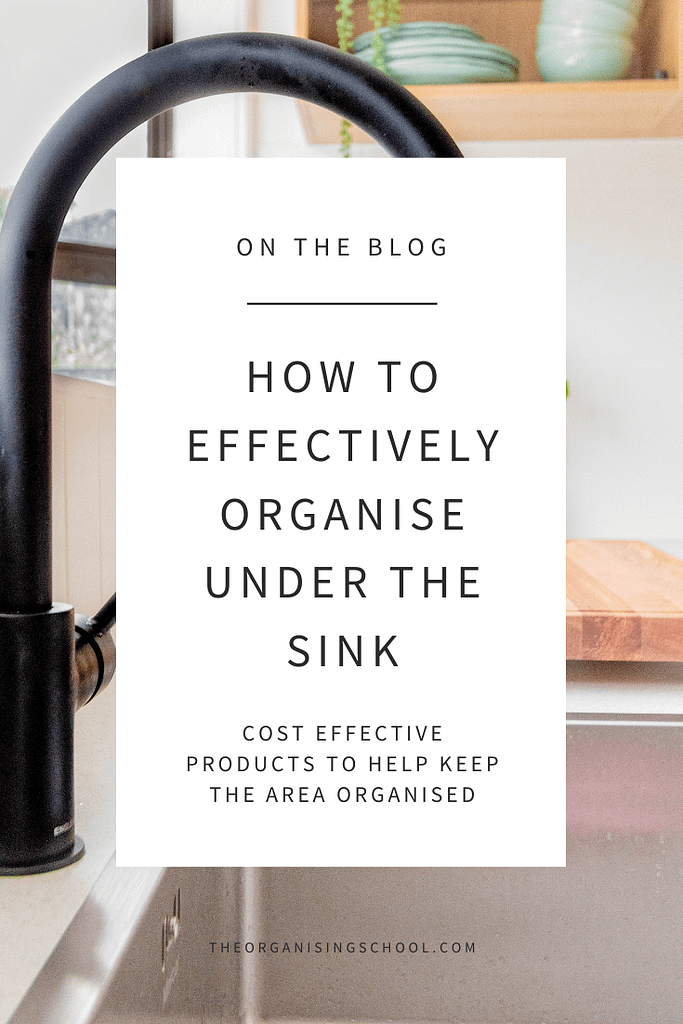 It can be challenging to effectively organise under the sink. Most of us have an awkward area filled with pipes and hoses.
But it is possible! There are some great cost effective products I'd like to show you to help keep the area organised.
First things first though, let's have a peek under your sink and see what is in there. We need to figure out what is being used and what little trouble makers are just taking up space.
Ok, honestly we need more than a peek. It's a mistake many people make – trying to organise an area without having a really clear idea of the contents.
The best way to assess the area is to:
take everything out from under the sink
Group similar products and items together
Purge anything you no longer need or have never used *
* Be honest…if you don't know what it is for, how will it ever get used!
Once you are left with only the items you use, consider if they are being housed in the right area. Depending on the configuration of your room, under the sink is either a great quick access area or an awkward space to get to.
Under my laundry sink is a very awkward space to get to, so I house less often used items in there and use a nearby cupboard for my washing detergents etc.
Once you have a clear idea of what will be housed under the sink, it's time to plan how to effectively organise it:
Measure the space
Look at what you want quick to hand
Check out the below photos for ideas on how to organise the space
Make a list of the storage you would like to use and plan the space
Search around your home to see if you already have something suitable to use
Make a list of what organising products you would like before heading to the store
If you want the space to be easy to manage, don't over fill it with consumables or organising products. A great rule of thumb is to only fill to 70/80%
Following are some organising suggestions, there are quite a few variations which could be overwhelming if you are not clear on the above:
Using tension rods under the sink
There are 2 ways tension rods are useful. To hang often used spray bottles or use the rods to secure containers on an angle making it easier to see the contents.
The trick is to find one small enough to fit in the space. I found some through AliExpress, if you live in Australia you could try stores like Bunnings and Spotlight.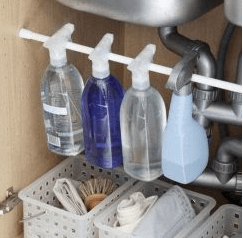 Stackable baskets
By using containers that stack, you are taking up less surface space while still making items easy to access.
Roller open storage
This is a cost effective way of creating a drawer like system that you can pull out to retrieve and see items. These examples have 2 small wheels fixed to the back so that they glide easily.
Drawers
With closed drawer systems you can store other items on top.
The below tiered system takes up less surface space.
The below system is more expensive but worth the investment if you have mobility constraints
You can find these drawer systems at Howard Storage World and Bunnings.
Containers
Use containers to keep like with like and to keep smaller items together. For less often used items, use a container with a lid to create more storage surface space.
Shelf insert
These are great if you only want a shelf in part of the cupboard to create more surface space.
Expandable shelf
This is a cost effective way to add shelving to under the sink.
Door and wall space
Attach hooks, railings and dispensers.
These 3M hooks require no drilling, are damage free and can be used in wet areas. They come in many different shapes and sizes.
Pullout Bins
Don't delay, start today
Sara