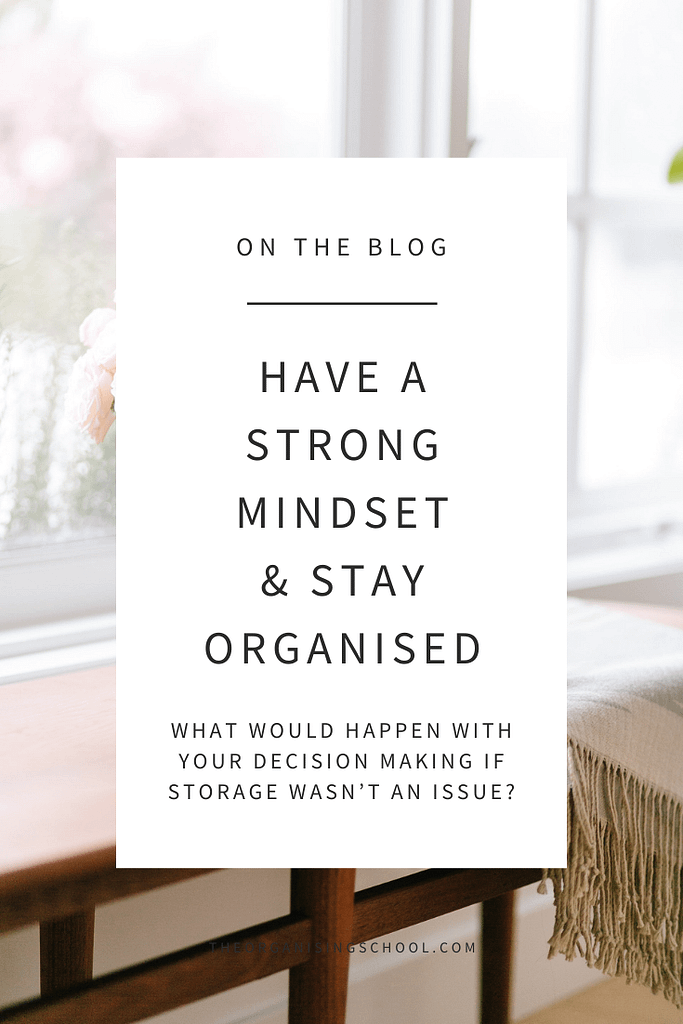 What would happen with your decision making if storage wasn't an issue?
If you had endless space, would you keep everything?
Our well-being and the amount of stuff we keep are connected. It's not only physical space but our minds that become cluttered and overloaded.
Regardless of the space we have available this continues to be true. Imagine the time and effort that would be needed to maintain a larger area and keep it all organised.
Maximums and Mindset
Here are some questions to help curb storing too much:
Look at your daily routine, what do you use regularly, what is stored and not accessed? Imagine you were downsizing, would you keep it all?
Or another way of looking at it, if you had to pay rent to keep the items, would it be worth it? Are you already paying an emotional toll…
We often find clients are keeping items for someday 'someday I will fit into that', 'someday I will start this project'…do your 'someday' items exceed the current items you use? How long have they sat there waiting for someday and is it impacting the way other items are stored?
Do you feel you 'should' keep something? If it was a gift – does the gift giver remember they gave it to you and how do they know you've kept it, especially if it is being stored at the back of a cupboard. How would they feel if they knew you felt you 'had' to keep it? If it is worth money, how much money is it making you right now?
Don't let your home be overrun by items you don't use or need. Have a strong mindset, be clear on what what you really need and want.
Decide on a maximum amount of items you will keep. The easiest way to do this is to look at where the items are being stored. For example the amount of books you keep would be dependent on what will fit on your bookcase or the amount of toy cars your children can keep would depend on the size of the storage box you have selected.
Be clear on why you are keeping items
Be mindful of keeping items that you feel you 'should' keep
Look at the bigger picture
Decide on a maximum
Be gentle with yourself
Don't delay, start today
Sara