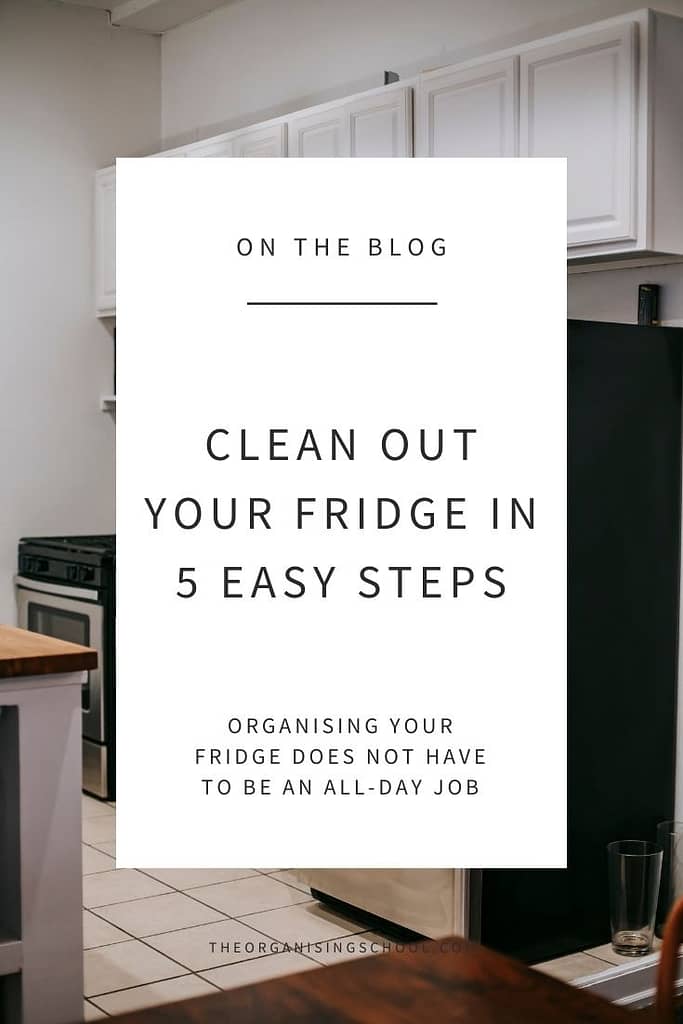 What's lurking in the back of your fridge … Have you ever gone searching for something, only to find who-knows-what-it-was from who-knows-how-long-ago.
Our refrigerators are great at allowing us to store food for longer periods of time, but this can also create black holes of clutter!
Organising your fridge does not have to be an all-day job, or a painful process. As your professional organiser, let's do it together in these 5 easy steps:
#1 – Clear off counter space
Have you ever started a declutter project only to find there is no space to lay your items out?! The kitchen, being the hub of our home, is one space that often has a lot going on.
To help set yourself up for success (and quick cleaning!), clear your counters so you have space to pull out all your fridge items and can clearly see them. Don't worry, after you have all of your items back in your fridge, you can reset your counters.
Don't have a lot of counter space? Clear space on a nearby table instead.
Tip: Don't get distracted here by decluttering your counters as well. You can tackle that clutter another day!
#2 – Empty the Fridge
The biggest mistake people make when cleaning out their fridge, is that they try to organise while emptying the fridge. This not only makes the emptying process slower, but also keeps your refrigerator door open more, increasing the toll on our environment.
My strategy is to empty all items out onto the cleared counter space, we will sort and organise in the next steps. Have your bin close by so that you can quickly throw any obvious items. If you have an item that needs to stay refrigerated, keep that in the fridge, you can organise it in Step 5 when we open the fridge again.
#3 – Sort the Items
Now that all of your items are on the counter, it is time to figure out what you will keep and what you will throw away.
Start by grouping like-minded items together. For example all the condiments, fruit, veg, meats, diary etc
Now that they are all together, go through each category. Check use-by dates and condition of products, purge anything that is past the point of no return. Anything you throw out and still have a need for – check your pantry for a replacement and add to your shopping list if needed.
Ok, it's time to review what's left – just because something is in-date or in good condition doesn't mean it should be kept. Be realistic, that condiment you purchased for a meal that turned out to be far too complicated to make again, or that jar of pickled oysters your cousin gave you – are you really going to use or eat it?! Purge anything you won't use again.
#4 – Wipe down the 'Keeps'
My final tip before we put things back in the fridge – wipe them down! When was the last time a few of these items had a good clean? Grab soapy water and a cloth and wipe down the items that you will be keeping.
This is also a perfect time to do a wipe down of the interior of the fridge too!
#5 – Categorise as your put items back
You're here! The final step. Now, most people will rush through this step, but in my opinion, this is the most important part!
As you put items back in the fridge, there are optimal places to store food so that the items last longer. Making sure like is stored with like will help stop waste, save money and time. Use containers to help coral items together and make them easier to access.
Different parts of your refrigerator will operate at different temperatures. In older style fridges the upper shelves will often be slightly colder than the lower shelves. In more modern fridges, the temperature will be relatively uniform throughout. Check the instruction booklet to find out about your model.
Start at the top and work your way down.
Upper Shelves
Use this area for food that is either going to be eaten soon (like leftovers) or have a longer shelf life like condiments and butter. Store the oldest leftovers at the front of the fridge to encourage it to be eaten first and not forgotten.
Bottom Area
Raw meat and veggies are better stored lower down where it is colder.
Humidity Drawers
The drawers work best if they are at least 2/3 full. Use the low-humidity setting for anything that tends to rot in a drawer. Leaving the window open on the drawer allows gases like ethylene gas from apples and pears to escape. When the gases are released, it helps keep the fruits and vegetables from rotting prematurely.
Use the high-humidity setting for items that wilt like leafy greens and herbs. By having the window closed, it retains moisture keeping items crisper and fresher longer. Also keep fruits and veg that are sensitive to ethylene gas (like strawberries), in this drawer.
Fridge Door
This is our quick access area. If you have an older style fridge it may not be the best place to keep the milk. If you've had issues with products going off quickly in the door, consider storing them in a colder part of your fridge.
We would love to hear from you on how you went with this task, and see a "before and after!" Or just the after.
If you would like more tips on how to organise different areas of your home, check out our FREE 7 day organising course.
You can also read my Top 3 tips for maintaining your fridge here.
Don't delay, start today
Sara