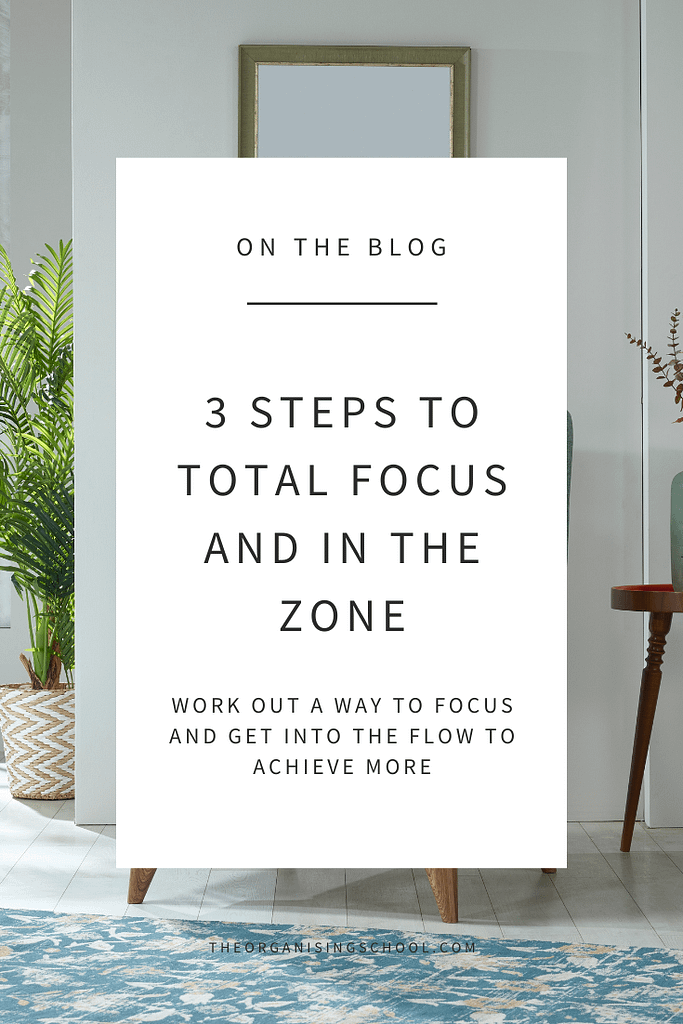 I talk about zoning in my courses, in relation to organising areas by putting like-minded items together.
It's a practical solution for our physical surroundings and by doing it physiologically it also helps us achieve more in our day. Getting into the zone is all about working out a way to focus and get into the flow to achieve more.
These simple tips can also be used to help make your decluttering sessions much more productive
Set a time and create the environment – work around your energy levels and schedule in a time that is longer than 30 minutes to get maximum focus. Think about what helps you focus? I like complete silence; you may find music works for you. Remove distractions, turn off any technology that you are not working on; let people know you will be unavailable for the duration. Manage temptations…
Eat that frog – make the time matter. Prioritise and don't multi-task, it dilutes the results. Focus on one activity and break the task down into manageable chunks.
Stimulation – What sort of energy do you need for the task at hand? If you need to still your mind and focus consider meditating beforehand. If you need to raise your energy, up-beat music might help.
Running 2 businesses, it's really important that I can compartmentalise the two and be in the 'zone' to achieve my goals. I found it very challenging to begin with, especially for The Organising School as I work in the other business full time.
It made a huge difference once I worked all of this out. I work early in the morning when there are no other interruptions and I can fully concentrate on sharing my organising passion online. I can fit in 2-2.5 hours every morning; have at least an hour break before getting into the zone for my other business.
The biggest lessons I learnt is it takes a while for me to get into the zone so I schedule in a 20 minute task first that doesn't have too much brain strain before eating the frog
I would love to know what challenges you face and what has worked for you?
Sara